Dead Sea black mud is known for its healing properties, thanks to its rich salt content and abundance of minerals, like calcium, potassium, magnesium, bromine and silica. The black mud has long been a basic ingredient in Jericho Skincare products, with the ability to sooth inflamed skin, treat eczema and psoriasis and eliminated signs of aging.
The effectiveness of black mud from the Dead Sea is well researched and has been shown to treat inflammatory skin disease such as psoriasis. People treated with black mud showed an improvement in symptoms, thanks to the high levels of magnesium found in the Dead Sea mud, a vital mineral that that has a soothing effect on inflamed skin.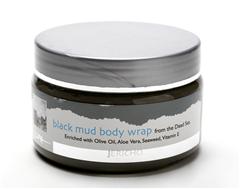 In addition, Dead Sea mud can also boost moisture levels, therefore is especially recommended for dry skin, and as an anti-aging treatment. After applying black mud products the skin feels smoother, more hydrated and more evenly toned. Using a black mud wrap over the entire body or a black mud facial mask once or twice a week on a regular basis can dramatically change the appearance of your skin and help it feel smoother and healthier. Try it for 4 weeks and see the difference!
The mineral rich black mud is used in many of Jericho Skincare products, including masks, soaps and shampoos. Black mud has been shown to have anti-microbial properties, thus preventing bacteria growth. For this reason it is recommended for the treatment of acne, since acne is mainly caused by bacteria clogging up pores and causing inflammation.
The best way to benefit from the Dead Sea black mud is to lay on the beach, under the sun, covered in mud from head to toe. The next best option is to use high quality Dead Sea skin products that contain maximum levels of Dead Sea minerals and salts, which have the power to alleviate psoriasis, acne, eczema, dermatitis and many more skin ailments, while improving the skin's overall wellbeing.